Cosmetic Microbiology 101
May 31, 2022
2022-12-21 12:44
Cosmetic Microbiology 101
Cosmetic Microbiology 101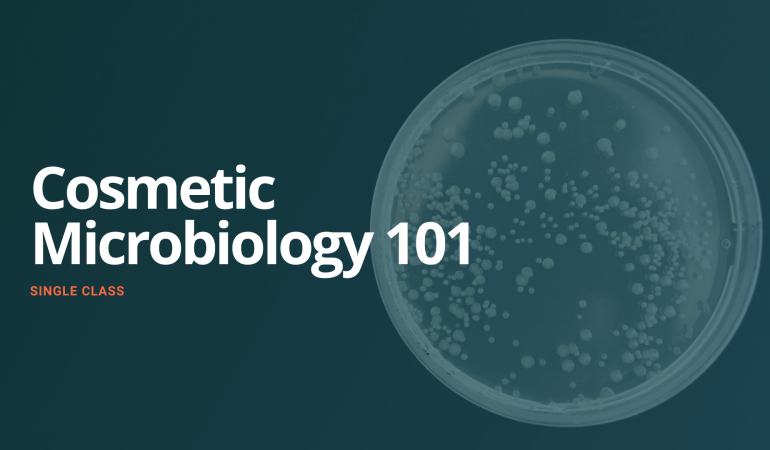 Keep Microbes Out of Your Products!
Beating the microbes in your formulation  is no easy task!
Are you tired of unsuccessful products or ruined formulations from microbial contamination (visible growth of microbial colonies of bacteria and fungi)? 
Are you tired of losing money or getting terrible reviews due to contaminated products? 
Put your worries to rest. 
This class will teach you everything you need to know about preventing annoying bacteria and fungi from ruining your hard work.
You see, preserving your cosmetic formulations go beyond disinfecting tools and equipment and adding a preservative. 
This class teaches you in depth about the microorganisms you're up against and the tips and tricks you need to keep unwanted microorganisms out of your formulations.
Even if you are doing everything right, microorganisms can still wreak havoc in your formulations and put your customers at risk – they can be transmitted through various means like your water source, from raw materials, your environment and even from people.
You'll learn everything you need to know about cosmetic microbial contamination and how to

prevent it

.

You'll learn all about

the classes of microorganisms that attack cosmetics, and

what these little microorganisms do and how they can ruin your formulations. 

You'll learn about different types and classes of preservatives, their formulation requirements, toxicology studies and optimum concentration because Over Preserving is just as bad as Under Preserving

You'll also learn different ways of creating hurdles which make microbial contamination difficult. 
When you have mastered this, contamination is less likely to occur!
Learn all of these and much more in The Cosmetic Microbiology 101 class!
The Cosmetic Microbiology 101 masterclass is perfect for anyone looking to master the art of selecting and putting the best  preservative system in place for skin, hair, and personal care formulations. To ensure the products are safely and adequately preserved. 
Click now to enroll in this course today!
IMPORTANT: Please check your email for details for accessing your course(s) after enrollment.