Making Your Own Version of Any Cosmetic Product.
May 31, 2022
2023-02-08 13:58
Making Your Own Version of Any Cosmetic Product.
Making Your Own Version of Any Cosmetic Product.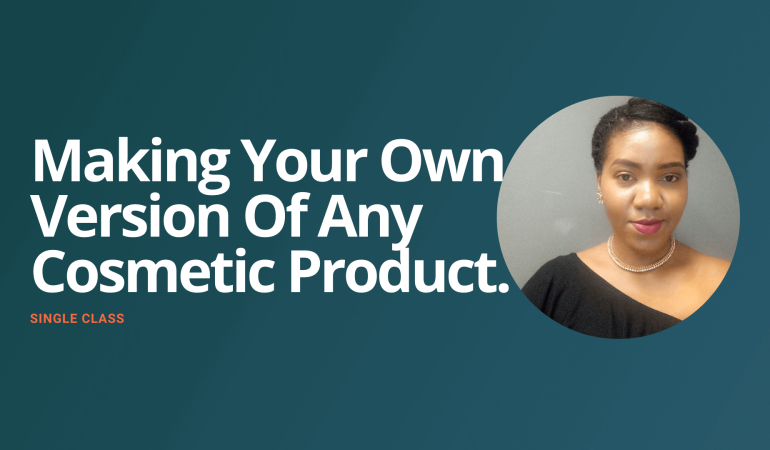 LEARN TO MAKE YOUR OWN IMPROVED VERSION OF ANY PERSONAL CARE PRODUCT YOU DEEM FIT.
Are you a budding cosmetics entrepreneur? A DIY enthusiast?
Or are you looking to save some money on your next beauty purchase?
Are you looking to delve into the niche of formula and product development from idea conception to completion?
Then this class is perfect for you.
As a cosmetic formulator/scientist one of the requests you'll always get is duping a competition's formula or making a more improved version of it.
This product duplication class teaches you in detail, step by step how to create your own version of any cosmetic product you deem fit.
You'll learn:
How to evaluate different types and forms of cosmetic products, determine their most important features and decipher which ingredients are responsible for it.
How to read an ingredient label and determine the concentration and function of each ingredient in the formula
Ingredient selections and substitution
How to troubleshoot cosmetic formulas and create different versions and prototypes till you achieve your desired product.
This class will teach you how to create your own improved version of any cosmetic product. So that, instead of stressing and going through the hassles of reinventing the wheel, you can focus on creating products that have been proven to be successful in the marketplace.
Sign up for this class today and start creating improved versions of your favorite products!
IMPORTANT: Please check your email for details for accessing your course(s) after enrollment.