Customizing African Black Soap Masterclass
March 18, 2022
2022-12-21 12:47
Customizing African Black Soap Masterclass
Customizing African Black Soap Masterclass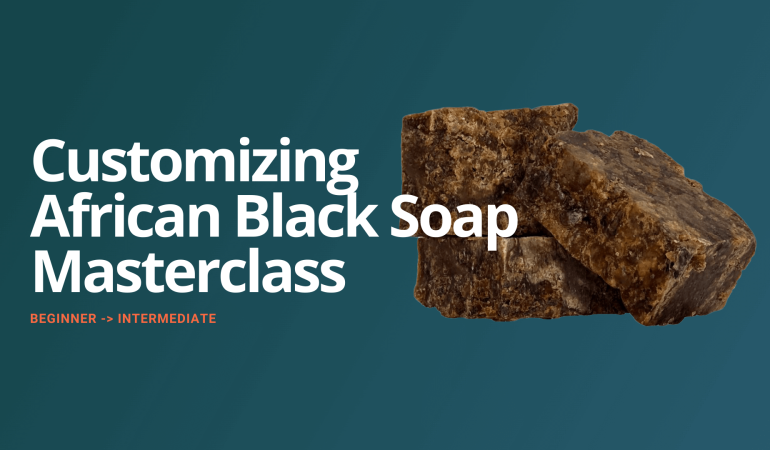 Course Description
Have you been struggling with achieving consistent batches of black soap cleansers because you're lost as to how to come up with professional formulas using black soap?
Do you find that after a while, your black soap formulations smell "off" i.e. rancid and go bad?

Do you have clients coming back to complain of several issues ranging from skin irritations, break outs, or excessive dryness after using your black soap?

Have you always wanted to learn how to customize black soap cleansers professionally
Then you shouldn't miss this class!
Discover how to customize different forms of high quality cleansers using the age old African black soap!
In the Customizing African Black Soap Masterclass you'll learn about
The facts, science and myths surrounding African black soap. 
How black soap works and how it affects the skin. 
How to choose the right ingredients to enable you to customize different types of black soap cleansers to suit different purposes ranging from Hair to Skin to Baby care.
How to achieve different textures and aesthetics
Different Viscosity modification techniques for Liquid black soap cleansers to enable you to achieve your desired level of thickness.
Different methods of re-batching African black soap
How to incorporate herbs for better efficacy
The smart formulators technique for creating a consistent formula & batch of black soap each time.
How to preserve your black soap formulations effectively.
And much more.
By the end of the class, you'll be able to choose the best ingredients that will suit the purpose you're formulating for, while taking safety, functionality and stability into consideration. 
You will go beyond just mixing black soap unprofessionally to Crafting Your Own Custom Range Of Unique and Professional Black Soap Cleansers for Different Skin Types.
Sign up for this class and begin this exciting journey today.
IMPORTANT: Please check your email for details for accessing your course(s) after enrollment.