The Acne Secrets Training Course
March 18, 2022
2022-12-21 12:48
The Acne Secrets Training Course
The Acne Secrets Training Course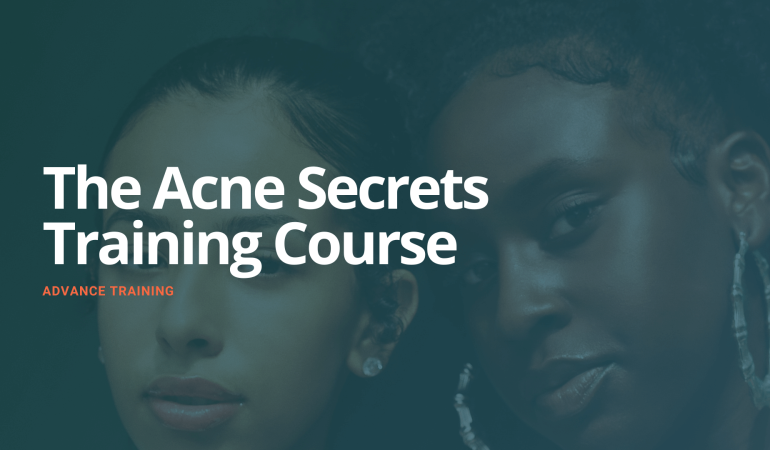 Course Description
This 8 weeks in depth course focuses on everything you need to know about formulating high performance functional products for acne prone skins. 
In this class you'll learn:
The pathogenesis and science of acne 
Different forms of acne, and proven formulation strategies to tackle them. 
Cosmeceutical ingredients selections, 
Proven ingredient synergies
how to create an effective regimen to manage different forms of acne.
And so much more.
After this class you'll be able to apply the skills and knowledge you've gained to select high performance ingredients and make highly functional products for acne prone skins. 
This is a self paced online course designed for Cosmetic formulators and brands looking to go beyond just formulating simple products to formulating advanced products with high performance botanicals and cosmeceuticals scientifically proven to help manage oily and acne prone skin.
Here's the breakdown:
MODULE 1 – ALL ABOUT ACNE
Acne affects not just the skin but also a person's confidence. Different things trigger this skin condition and so it's quite difficult to approach it with the "One size fits all" mindset.
In this module you'll learn:
What this condition really is (AN OVERVIEW).

Some Factors that predispose the occurrence of this skin condition
MODULE 2 – PATHOGENESIS OF ACNE
Acne presents in different forms, having a sound knowledge of this will guide you in choosing ingredients to make effective products.
In this module you'll learn:
The Science of acne formation

Different modes of acne and how they are expressed on the skin.
MODULE 3 – INGREDIENTS AND SYNERGIES
Now that you've learnt the science behind acne it's time to merge the science and art together.
In this module you'll learn:
Applying this science knowledge in selecting high

performance ingredients to make functional products.

Formulation requirements of ingredients
MODULE 4 – PRACTICALS
It's time to put theory into practice.
In this module you'll learn:
Formulating products for acne prone skin.

Cleanser

Toner

Moisturizer

Masque
SUITABLE FOR: PEOPLE WITH FORMULATION EXPERIENCE
Sign up for the Acne Secrets course and get the expertise you need to start creating effective products for acne.
IMPORTANT: Please check your email for details for accessing your course(s) after enrollment.