Formulating Effective Products With Salicylic Acid
May 31, 2022
2022-12-21 12:46
Formulating Effective Products With Salicylic Acid
Formulating Effective Products With Salicylic Acid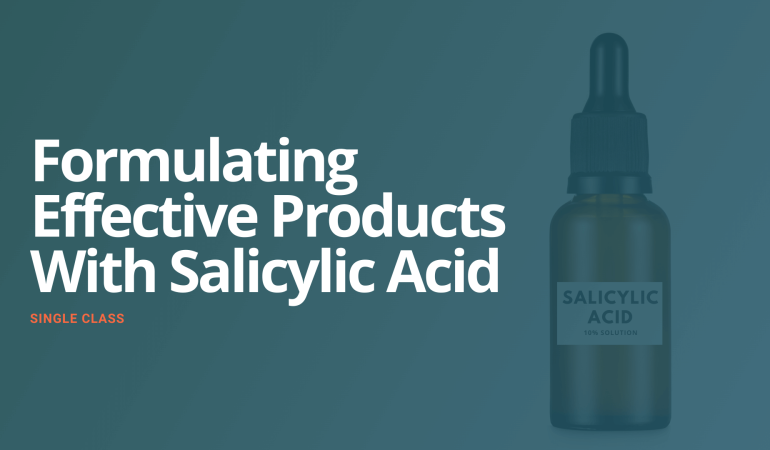 Salicylic acid is a fantastic ingredient for skin and hair care but if you have ever tried formulating with it you'll find that it can be frustrating!
To begin with, salicylic acid has many benefits…ranging from: 
Antibacterial property for acne prone skin

Anti-blemish and skin brightening properties through exfoliation for uneven skin tone…

And anti-inflammatory properties for sensitive skin. 
But creating stable and effective products with it can be really difficult!
Many formulators try to use alcohol to dissolve it to avoid recrystallization but that would require using alcohol at a high concentration and that can be drying to the skin.
And, if you choose the way of glycols e.g. propanediol 1,3, you'll also require a high amount and this can significantly increase your formulation cost.
Even with the use of alcohol and glycols, most often you'll still experience precipitation (white particles that form while formulating products with salicylic acid).
Or recrystallization (sharp shards that look like broken glass) which appear a few days after making your products.
So you need much more than just alcohol or glycol to strike a balance between formulating salicylic acid products that are very effective, safe, stable and formulating at the best cost that allows you to make enough profit!
Now, having worked with salicylic acid over the years…
I've discovered a collection of unique methods, tips and tricks of not just creating effective, safe and stable salicylic acid products with no recrystallization…
But also how to incorporate it into various forms of unique products – not just the regular toners, face washes and moisturizers.
In this class, I'll be sharing with you all the tips and tricks I've learnt over the years for creating high performance products with salicylic acid.
Here's what you'll be learning:
Salicylic acid and its applications in cosmetic formulation 
Mode of action and delivery system. 
Tips to choosing the best concentration for your chosen niche and application 
Formulation requirements for stability, safety and functionality 
Best active combinations and synergy 
And lots more
So now, if you are ready to start formulating stable, functional, cost-effective yet unique products with salicylic acid, click the green buy now button and enroll for this class today!
IMPORTANT: Please check your email for details for accessing your course(s) after enrollment.